WELCOME TO WeFightMS.com!
Hello once again friends. We made it!! Now come ride with us in Napa in September!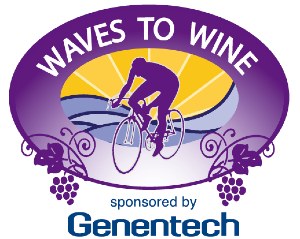 With the Texas ride behind us, team WeFightMS.com has big ideas and exciting announcements. The MS150 is coming to California and we want YOU to ride it with us! Closer to home, Waves to Wine is the Bay Area's MS150, a 2-day trip through vineyards and along the Pacific Coast. On September 9-10, we want you to join the rolling circus, the best way to support this awesome cause:
We've talked to a great many people who are pumped to ride with us in September for 150 of the most beautiful miles you can ride. Our goal is to recruit 100 of our friends to ride wih us! With you on the WeFightMS.com team, we can play a truly significant role in the fight against MS. Also, and we know from experience, the more people you ride alongside, the bigger the laughs, and the merrier the miles. Let us know if you want to ride Waves to Wine! You know you do!
On behalf of everyone currently fighting MS, we thank you again so much for your support for the TX ride ' we cannot tell you how much we appreciate your donations, kind words and inspiration. Thanks again, from the entire rolling circus!
P.S. A special thanks to TRANSVIDEO STUDIOS for making these videos possible.
WeFightMS.com Waves to Wine ROSTER (CA)
Donate to a Team Member | Meet the Team
RECRUITING SUMMARY
Team Name: WeFightMS
(Team Code: CANBWEFF01)
When registering, use this discount code
for $10 off registration: Team 1
Questions? Problems? Email us!
Come join us!
Dunagan Pearson
Meg Pearson
Rico Andrade
Aden Bliss
Danny Kramer
Rahul Young
Mandy Liebscher
John Chase
Cabe Nicksic
Geoff Fraser
Wellesley Fraser
Meredith Kessler
Matt Evans
Steve Speier
Alexis Todor
Kim Mathis
Michelle Thong
Gretchen Anderson
Jenny Hogan
Nils Hansen
Ryan Padrez
Maryam Kamvar
Griff Behncke
Brett Garrett
Adam Seligman
Rudi Becker
Kimberly Petska
Gus Moore
Sarah Almy
Amy Dickie
Anne Torney
Rachelle McManus
Peter Berg
Mike Nicksic
Katherine Ragusa
and, of course,
Daderoo and Mamacita